Our International/State/Membership Response….
[
Traducción al español a continuación]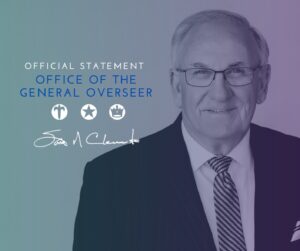 Over the past week, I have been grieved by the tragic death of George Floyd and the events that have resulted from it. Having recently walked through our own season of loss, Linda and I understand the pain of losing a son. Mr. Floyd's death was not only sad, but also inexcusable. His death has once again made us aware of the unhealed wound of racism in North America, and demonstrations around the world remind us that prejudice is not limited to the United States.
Scripture instructs us to "mourn with those who mourn" (Romans 12:15 NIV). Scripture also instructs us to "Speak up for those who cannot speak for themselves, for the rights of all who are destitute" (Proverbs 31:8-9 NIV).
I join with the general presbyter of North America in denouncing racism in any form and from any source. Through social media, email, and phone calls, our offices have received messages of prayer and concern from all around the world.
As we once again face actions and words that seek to divide us, the Church of God of Prophecy remains committed to the biblical affirmation that every man and woman is made in the image of God. As an all-nations church, let us choose to remain faithful in praying for our leaders and be united in purpose to proclaim the gospel of Jesus Christ.
In the days ahead, my office will prayerfully seek input from an inclusive and diverse group of people to explore how the church can address these issues and become agents of change and reconciliation. In the meantime, please join with me in praying for the Floyd family, those impacted by violence or persecution around the world, for our law enforcement and first responders, and those serving in positions of influence and responsibility within government.
Sam Clements
General Presbyter- COGOP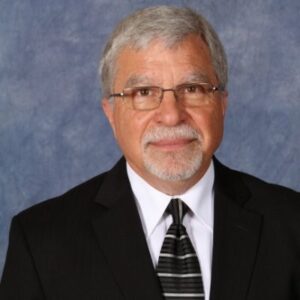 Awake, Lord! Why do you sleep? Rouse yourself! Do not reject us forever. Why do you hide your face and forget our misery and oppression? We are brought down to the dust; our bodies cling to the ground. Rise up and help us; rescue us because of your unfailing love. (Psalm 44:23-26)
Psalm 44 is a prayer of protest and lament. It eloquently voices the plight of our Black American brothers and sisters; it is especially poignant and appropriate at this time. On Memorial Day, May 25, we were horrified as the news broadcasted the agonizing death of George Floyd in Minnesota—yet another victim of racist police brutality. Every day since Floyd's death, there have been peaceful demonstrations protesting the deadly arrest. Unfortunately, almost every day these demonstrations have been infiltrated by organized bands of violent rioters and looters that have dishonored the name of Floyd and his family. The result has been confusion, chaos and destruction, and a sense of betrayal for those who protest hate, racism and violence of any kind against people of color. Floyd is not alone. Another recent victim is Breonna Taylor. The list extends back 240 years in America. While numerically there are more white men killed by police, the percentage of black men killed by police is much higher. But brown people are not exempt from police brutality either. An example is this week's fatal shooting of Sean Monterrosa, a Hispanic from Vallejo, unarmed and kneeling.
We protest the occurrences of inequity of our law enforcement, judicial and correctional systems on the basis of race. However, we must also emphasize that it is the unrighteous acts perpetrated by a few that causes these systems to be judged as biased and racist. It is both in lawlessness and in the corruption of law that the dark heart of human beings is exposed. Although racism is a systemic problem in America, not every police officer is racist. We have seen heartwarming evidence this week as protesters and officers have linked arms, marched and prayed together. Not every judge and jury are racist. Not every correctional system is racist. So, to judge every law officer, court and prison by the dark and heinous deeds of others is wrong. Our hearts should also go out to the good police officers who are berated, cursed, attacked and killed simply because they wear a badge. Black officers have also been victims.
The Church of God of Prophecy has long been recognized as a leader within the Pentecostal movement in racial integration in all levels of leadership, from its International Offices, to nations and states, to local churches. But to say that racism does not exist in COGOP would not be the truth. Although our leadership has at times spoken out against the evil of racism both inside and outside the church, racism has nevertheless been felt and manifested among our people at national, regional and local levels. Where racism exists among us, we must confess it, repent of it, mend our ways, accept, love and serve each other, regardless of the color of one's skin.
While we support peaceful demonstrations against racism and earnestly desire to see peace and harmony among all racial and ethnic groups, we must admit that demonstrations, social movements, laws and regulations will not correct the problem of race. Racism is a heart problem among all races and ethnic groups. And until our hearts are right, racism will continue to infect and corrupt the minds and hearts of human beings.
In the New Testament church, it was though the inspiration of the Holy Spirit that Apostles Paul and Peter began to speak the message of racial and ethnic inclusiveness and unity. To the Ephesians, Paul wrote,"
For He Himself is our peace, who has made both one, and has broken down the middle wall of separation, having abolished in His flesh the enmity, that is, the law of commandments contained in ordinances, so as to create in Himself one new man from the two, thus making peace, and that He might reconcile them both to God in one body through the cross, thereby putting to death the enmity" (Ephesians 2:14-16).
Paul later admonishes the Ephesians to "[endeavor] to keep the unity of the Spirit in the bond of peace" (Ephesians 4:3).
Genetic science has proven that what we perceive as race is only skin deep. There is only one race—the human race. This is not news. God created only one man and one woman in the Garden of Eden. Paul, in his sermon to the Athenians, says that "[God] has made from one blood every nation of men to dwell on all the face of the earth" (Acts 17:26). We are all sons and daughters of Adam. What we perceive as racial differences are due to years of environmental and cultural influences and adaptation.
As Christians, we must take a firm stand on the truth that every human being is created in the image of God, and that we are descendants of our first parents, Adam and Eve. We must also take a firm stand against racism, which is an insult to God who created every human being in his image. To do anything less is sin.
This letter began with a Psalm of protest and lament. It will end with a Psalm of humble examination before God.
Search me, God, and know my heart;
test me and know my anxious thoughts. See if there is any offensive way in me, and lead me in the way everlasting. (Psalm 139:23-24)
Phil Pruitt
State Bishop
Churches of God of Prophecy in California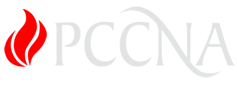 Dear Friends,
The Pentecostal Charismatic Churches of North America's vision of "demonstrating unity in the power of the Spirit" is rooted in how the Spirit has spoken to its members from the very beginning of our formation. We pursue justice, love mercy, and desire to walk humbly with our God. To tangibly demonstrate those pursuits, the PCCNA has as one of its purposes: "To embrace and implement biblical principles of racial reconciliation, justice, and equity within our spheres of influence, and to work toward the eradication of poverty."
Within our nations in North America these biblical principles are often violated and call us to respond in unity with prayer, confrontation of evil, and loving actions towards those who experience injustice as well as redemptive initiatives towards those who act unjustly. In the light of current and recent events that have violated the biblical principles PCCNA has purposed to demonstrate, I would invite you to note the response from some leaders or representatives within several of the PCCNA's member organizations and from our chair of the Race Relations Commission, Rev. Aaron Campbell, who also serves as the director of the Memphis Chapter of PCCNA.
Rev. David R. Wells, M.A., D.D.
President – PCCNA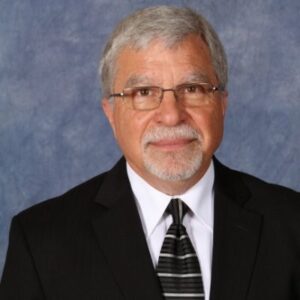 Nuestra respuesta a George Floyd y las consecuentes protestas
¡Despierta, Señor! ¿Por qué duermes? ¡Levántate! No nos rechaces para siempre. ¿Por qué escondes tu rostro y te olvidas de nuestro sufrimiento y opresión? Estamos abatidos hasta el polvo; nuestro cuerpo se arrastra por el suelo. Levántate, ven a ayudarnos, y por tu gran amor, ¡rescátanos! (Salmo 44:23-26 NVI)
El Salmo 44 es una oración de protesta y lamento. Expresa elocuentemente la difícil situación de nuestros hermanos y hermanas afroamericanos; es especialmente conmovedor y apropiado en este momento. El Día de los Caídos, el 25 de mayo, nos horrorizamos cuando la noticia transmitió la agonizante muerte de George Floyd en Minnesota, otra víctima de la brutalidad racista de la policía. Todos los días desde la muerte de Floyd, ha habido manifestaciones pacíficas que protestan contra el arresto mortal. Desafortunadamente, casi todos los días estas manifestaciones han sido infiltradas por bandas organizadas de alborotadores violentos y saqueadores que han deshonrado el nombre de Floyd y su familia. El resultado ha sido confusión, caos y destrucción, y un sentido de traición para aquellos que protestan contra el odio, el racismo y la violencia de cualquier tipo contra las personas de color. Floyd no está solo. Otra víctima reciente es Breonna Taylor. La lista se remonta a 240 años en Estados Unidos. Si bien numéricamente hay más hombres blancos asesinados por la policía, el porcentaje de hombres negros asesinados por la policía es mucho mayor. Pero los marrones tampoco están exentos de la brutalidad policial. Un ejemplo es el fatal tiroteo de esta semana contra Sean Monterrosa, un hispano de Vallejo, desarmado y arrodillado.
Protestamos por los hechos de inequidad de nuestros sistemas policiales, judiciales y correccionales sobre la base de la raza. Sin embargo, también debemos subrayar que son los actos injustos perpetrados por unos pocos los que hacen que estos sistemas sean juzgados como sesgados y racistas. Es tanto en la anarquía como en la corrupción de la ley que el corazón oscuro de los seres humanos está expuesto. Aunque el racismo es un problema sistémico en Estados Unidos, no todos los oficiales de policía son racistas. Hemos visto pruebas conmovedoras esta semana cuando los manifestantes y los oficiales han unido las armas, marchado y orado juntos. No todos los jueces y jurados son racistas. No todos los sistemas correccionales son racistas. Por lo tanto, juzgar a todos los oficiales de la ley, tribunal y prisión por los oscuros y atroces hechos de los demás está mal. Nuestros corazones también deben extenderse a los buenos oficiales de policía que son reprendidos, malditos, atacados y asesinados simplemente porque llevan una placa. Los oficiales negros también han sido víctimas.
La Iglesia de Dios de Profecía ha sido reconocida durante mucho tiempo como líder dentro del movimiento pentecostal en la integración racial en todos los niveles de liderazgo, desde sus Oficinas Internacionales, hasta naciones y estados, hasta iglesias locales. Pero decir que el racismo no existe en el COGOP no sería la verdad. Aunque nuestro liderazgo a veces se ha pronunciado en contra del mal del racismo tanto dentro como fuera de la iglesia, el racismo se ha sentido y manifestado entre nuestra gente a nivel nacional, regional y local. Donde existe racismo entre nosotros, debemos confesarlo, arrepentirnos de él, arreglar nuestros caminos, aceptar, amar y servir unos a otros, independientemente del color de la piel.
Si bien apoyamos las manifestaciones pacíficas contra el racismo y deseamos sinceramente ver paz y armonía entre todos los grupos raciales y étnicos, debemos admitir que las manifestaciones, los movimientos sociales, las leyes y las regulaciones no corregirán el problema de la raza. El racismo es un problema del corazón entre todas las razas y grupos étnicos. Y hasta que nuestros corazones no sean rectos y justos ante de Dios, el racismo seguirá infectando y corrompiendo las mentes, los corazones, y las acciones de los seres humanos.
En la iglesia del Nuevo Testamento, fue a través de la inspiración del Espíritu Santo que los apóstoles Pablo y Pedro comenzaron a proclamar el mensaje de inclusión y unidad racial y étnica. A los Efesios, Pablo escribió",
"Porque Cristo es nuestra paz: de los dos pueblos ha hecho uno solo, derribando mediante su sacrificio el muro de enemistad que nos separaba, pues anuló la ley con sus mandamientos y requisitos. Esto lo hizo para crear en sí mismo de los dos pueblos una nueva humanidad al hacer la paz, para reconciliar con Dios a ambos en un solo cuerpo mediante la cruz, por la que dio muerte a la enemistad." (Efesios 2:14-16).
Pablo más tarde exhorta a los efesios a "[Esforzarse] por mantener la unidad del Espíritu mediante el vínculo de la paz" (Efesios 4:3).
La ciencia genética ha demostrado que lo que percibimos como raza sólo se trata de la piel. Sólo hay una raza: la raza humana. Esto no es noticia. Dios creó sólo un hombre y una mujer en el Jardín del Edén. Pablo, en su sermón a los atenienses, dice que "[Dios] ha hecho de una sola sangre que toda nación de hombres para morar en toda la faz de la tierra" (Hechos 17:26). Todos somos hijos e hijas de Adán. Lo que percibimos como diferencias raciales se debe a años de influencias y adaptaciones ambientales y culturales.
Como cristianos, debemos tomar una posición firme sobre la verdad de que todo ser humano es creado a imagen de Dios, y que somos descendientes de nuestros primeros padres, Adán y Eva. También debemos tomar una posición firme contra el racismo, que es un insulto a Dios que creó a cada ser humano a su imagen y semejanza. Hacer cualquier cosa menos es pecado.
Esta carta comenzó con un Salmo de protesta y lamento. Terminará con un Salmo de humilde examen ante Dios.
Examíname, oh, Dios, y sondea mi corazón; ponme a prueba y sondea mis pensamientos. Fíjate si voy por mal camino, y guíame por el camino eterno. (Salmos 139:23-24)
Phil Pruitt
Obispo
Iglesias de Dios de Profecía en California